FREQUENTLY ASKED QUESTIONS
Q: HOW DO I GET FREE RAZORS OR SAMPLES WITH MY ORDER?
Your free razors or samples can be chosen in your cart just before checkout.
You can add one (1) free item for every item in your cart. You will see an area above the item(s) in your cart where you can choose your samples (highlighted in green below). Click the "Add to Cart" button to add that free item to your cart.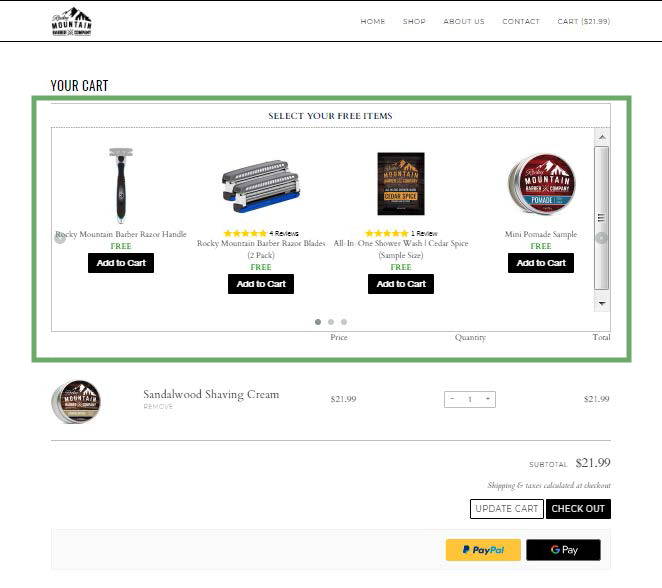 Your free item will then be added to your cart. You will be able to repeat this step until you have 1 free item for every product you are purchasing. Once you have the maximum number of free items added to your cart, the box will disappear and you will see all the items that will be shipped to you.
After you have completed adding your free item(s) to your cart, click Check Out to review and finalize your order.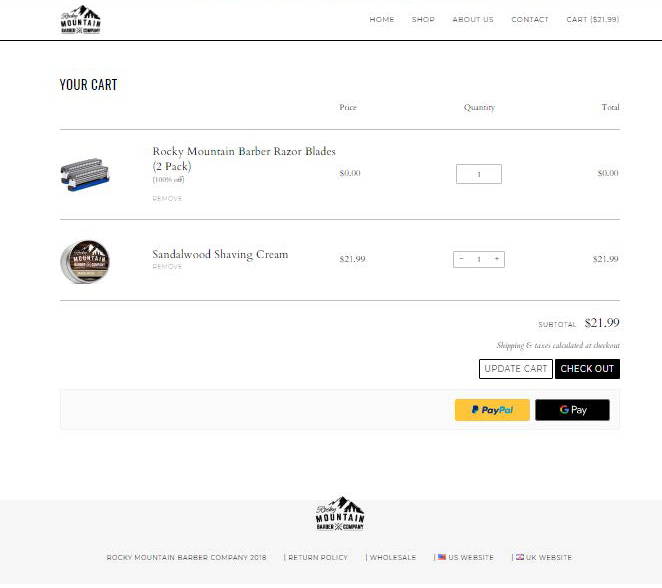 Q: I NEED TO CHANGE MY SHIPPING ADDRESS
If you made an error when inputting your shipping address, please contact us with the intended shipping address and your order number. If your order has not been shipped yet we will be able to change your shipping address.
Currently we ship to the United States and Canada. If you are visiting from Canada, visit rockymountainbarber.ca to purchase your items.
Q: When Will My Order Ship?
Your order will arrive within these delivery estimates based on your location and selected shipping speed.
Standard Shipping: Orders will arrive within 3-6 business days. Orders that qualify for free shipping are shipped using standard shipping.
Two Day Express Shipping : Orders placed before noon are processed same-day and arrive within 2 business days. 
If for any reason we are unable to ship out your order within our standard time frame, we will contact you immediately to notify you of any delays and ensure that you get your items as soon as possible.
Q: CAN I CHANGE MY ORDER?
If your order has not shipped yet, we may be able to change the contents of your order. Please please contact us and we will do our best to change the order.
Q: Can I Use Multiple Coupon Codes?
Only one coupon code can be applied per order. We will automatically apply the highest discount coupon code that you enter. For example, if you were to enter a 5% code and a 10% code, we will use the 10% code at checkout.
Q: I'm Not Satisfied With My Purchase. What Should I Do?
We are committed to your satisfaction. If you are unhappy with your purchase, please contact us and we will resolve the issue in less than 24 hours.
Q: I Want to Sell Rocky Mountain Barber Products in My Retail or Online Store.
If you are interested in wholesaling our products at your retail location, please visit our wholesale website to apply.
Q: My Question is Not Answered Here.
For all other inquires please contact us. Be sure to include your order number in your contact if it is regarding an order you recently placed.